A Pioneer Paving the Path to the Evolution of the Industry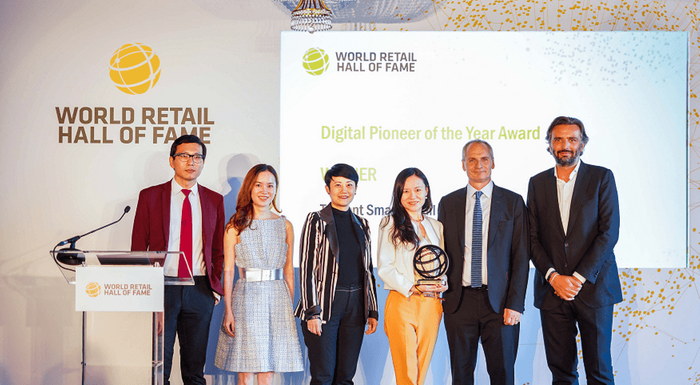 The Digital Pioneer of the Year Award was given to Tencent Smart Retail for its unique "connection" power that helps retailers achieve real and substantial growth in this mobile social era.
Tencent Smart Retail has already brought about tremendous additional growth to many top-notch brands in the industry, which is possible for mass application, reproduction and sustainable development.
On accepting this award on behalf of Tencent Smart Retail, Cecilia Tian, General Manager, Smart Retail Tencent said: "It is a great honour for Tencent Smart Retail to receive such an award from World Retail Congress. We are very much appreciative of your precious support and encouragement for the endeavors Tencent Smart Retail and China as a whole are making in the course of digitalisation in the era of social and mobile. It is the first time that Tencent Smart Retail has ever participated in World Retail Congress events and we hope this award can serve as an accelerator for us to make more contributions to the docking and connection of retail practices between China and the rest of world by playing the role of a "connector". We are determined to help push forward the evolution of digitalisation, while always be ready to draw on the latest retail philosophies conceived by other countries in the world, thus to bring about real benefits and substantial growth to retailers."
Duncan Painter, CEO of Ascential, the specialist, global information company that organises World Retail Congress, said, when presenting the award to Tencent Smart Retail: "China's retail industry are innovating at an impressive scale. In the West, we can only be envious of the standards they set and the sheer quality of that innovation. Tencent Smart Retail has set the standard: only are they leading in the world of digital and digital ecommerce, but they're doing it to a level where almost 98% of the Chinese digital mobile users, as customers and regular users of their platform. And on top of the standards that they have set, the way they are now thinking about digital collaboration, bringing their phenomenal capability to partner with organisations across the world in retail will truly enhance and improve the overall market experience for consumers."
About Tencent Smart Retail:
One of China's most influential integrated internet service providers, Tencent is a digital content platform, tech enabler, and connector, playing a vital role in the online lives of Chinese users everywhere.
Tencent Smart Retail leverages the exceptional "connecting" capabilities of the Tencent ecosystem to assist retail brands in reaching and engaging with their customers in a low-cost, highly-efficient, and personalized manner, helping them realize sales & profit growth through:
1) The digitalisation of customer's existing business
2) The new ".com 2.0" retail model to unleash incremental sales & profit growth via WeChat Mini-Programs Flagship Stores, official shopping assistants or social groups etc.