14 Feb 2018
An interview with Jen Rubio, Co-Founder & Creative Director, Away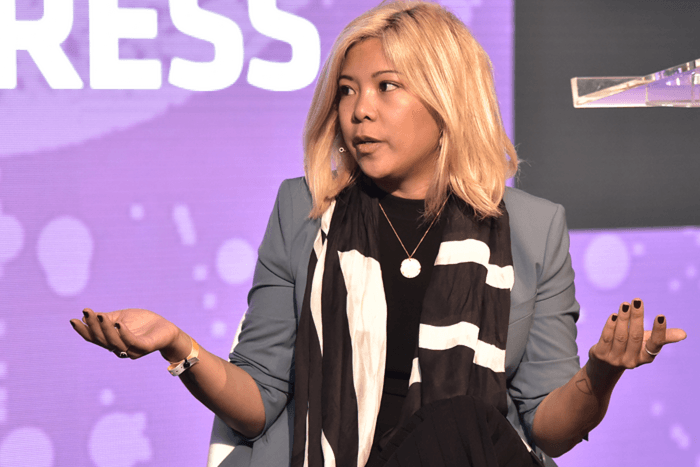 An interview with Jen Rubio, Co-Founder & Creative Director, Away
1. How do you think you and your brand are shaping the future of retail?
At Away, we know retail stores need to do more than sell products, so we're not just selling suitcases in our brick and mortar locations. We're using our physical spaces as a place to encourage people to come together and get inspired to travel the world.
In an era when consumers can go online and buy whatever they're looking for in a way that's faster and cheaper than ever before, we know it's important to be able to provide an experience that really draws people in.
It's why we view our stores as a chance to fill a real need and launched concept and permanent retail stores in six cities globally within a year of launching as a company.
In an Away store, you'll find our products, but you'll also find some of our favorite travel books, free coffee, and reliable wifi with the goal that customers will come in and feel inspired to plan their next getaway! They also serve as a hub for different types of events—whether yoga classes, panels, or live concerts—which allows us to offer other experiences that might resonate with our community on a deeper and more personal level.
Our strategy has resulted in an increase in sales in the short term (all of our stores are profitable and we've seen sales go up in the regions where we have a physical presence), but we believe it's also crucial for the long term. If we can continue to provide an experience that causes people to inherently associate Away with more seamless travel, we'll solidify customer loyalty for a lifetime of trips to come.
2. What has been your biggest failure and how did you learn from it?
Failure is part of building a business, and Steph and I have learned a lot since we launched —and quickly sold out of—our first suitcase less than two years ago.
Personally, it can be tough to take a step back and not be super involved in every single detail of the business because I'm so passionate about what we're building! But over time, I'm learning to take a step back and trust the team we've built to do their jobs because I know that trying to do everything will only lead to burnout or (worse?) cause me to be less effective at the things I'm really good at.
3. What have been your top three lessons learned in business?
Build a brand, not just a product. At Away, we know that the delta between good design and a brand is emotion, so if you aren't connecting emotionally with your customers, you aren't building a brand. For us, that means feeding the Away traveler's imagination—helping them to envision not just owning the luggage, but exploring the world with it.
The customer is absolutely key. Our suitcases were developed after hearing the travel stories of nearly 1,000 people, and we used that feedback to design thoughtful features that solve real problems (e.g. a built-in phone charger and a laundry bag as default features!). We continue to listen to what our community wants, and their input has driven major business decisions. As an example, we heard from our customers that they wanted an opportunity to touch and feel the product, so we launched several retail stores, in part, to allow them to do just that.
Don't expect it to be easy. People expect that in finding their "thing," they'll be ecstatic 24/7, but work (even meaningful, purposeful work) is hard. Think about how you feel at the end of every day — are you working towards something that fulfills you?
4. What do you think is the next big idea in retail?
I think retailers will continue to find new and innovative ways to create physical spaces that are about more than just a single product, and that emphasize the importance of in-person experiences in an increasingly digitally-driven economy.
I think we'll also see more companies start to use what they're learning online to inform what they do offline—really using the data regarding digital consumer patterns and testing how that applies to the in-person experience.
5. Who within/outside of the industry inspires you the most?
I'm consistently inspired by Angela Ahrendts and the team over at Apple. They've been able to evolve their retail strategy so that it's responding to what their consumers are actually asking for, and in a way that's authentic to their core values as a company - whether it's by creating meeting spaces in their stores to encourage local entrepreneurs to gather, or by hiring retail associates that are incredibly creative and can inspire potential customers.
Personally, I'm inspired by my dad who sparked my global perspective, In a lot of ways, I have him to thank for inspiring my love for travel and for Away! He taught me that everywhere is just a plane ride away—some trips are just longer than others.
6. If you could pick a superpower, what would it be?
Time travel. Can you imagine? I travel so much for both work and play (200,000 miles last year alone!), but I'd love to have even more time to be able to see all of the places currently on my bucket list.
7. What was your last purchase (not F&B) and why?
I invest in quality essentials that I can't live without (like noise-cancelling headphones and a cashmere blanket scarf to use on overnight flights), but I also love to splurge on little things that remind me of the places I visit. My home in New York has little mementos scattered throughout it—from a set of plates I picked up in Marrakech to (most recently) a beautiful piece of street art I purchased in Copenhagen—so I'm constantly being reminded of the amazing places I've seen, and inspire me to think about all of the places I still have to go.