Fashion future is about bridging the gap from X to Z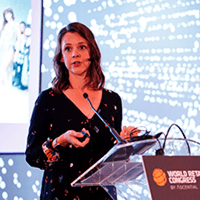 The overlooked Gen X still has plenty of spending power said trend forecasters WGSN
"Are consumers really opting for online sales over visiting brick-and-mortar locations? We might be overlooking Generation X," suggested Carla Buzasi, managing director of WGSN, as she shared her insight about Gen X which she suggests may be the forgotten generation of shoppers.
Speaking at the World Retail Congress in Amsterdam yesterday afternoon, she said that this Gen X might not be seen as the generation of the future, given that it is the smallest of our time, including only 25% of all consumers worldwide.
However, Gen X has the largest spending power and the money to actually buy product, right now. "The thing that they want most is to be time affluent. They want you to make their life easier. This generation, when it comes to spending money, want it to be as simple as possible." Buzasi said.
Clean and curated commerce has shown that you can increase sales just by making things simpler whereas an overwhelming amount of choice can be confusing. This generation want you to take the pain out of the decision-making process by adopting a direct-to-consumer strategy. Gen X is definitely digital-savvy. Nevertheless, their main focus when shopping online is that it save time versus visiting an actual store.
"More importantly, when focussing too much on millennials, you are underestimating the power of the XZ-factor," said Buzasi. "Gen Z is much more like Gen X than millennials. Look at Stuart Weisman, who paired Kate Moss with Gigi Hadid for their shoe campaign, serving both Gen X and Gen Z by combining their generations most iconic influencers."
She said that same thing is true of middle youth. There are so few brands that are using models in their early 40 for their international campaigns, while it's a great opportunity to speak to both Gen Z and Gen X at the same time, she added.
"Gen Z wants to be part of an established brand and will therefore buy cheaper brand products such as fragrances and make-up, while it's Gen X that will actually get your cashflow going, when buying the more expensive clothing," said Buzasi. "When it comes to today's retailing, it's about bridging that gap between Gen X and Gen Z."