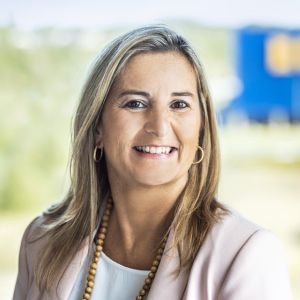 Belén Frau
Deputy Global CEO
,
IKEA Retail
After receiving her degree in Economics and Business Administration from the University of the Basque Country, Belén started her career in 1997 at Deloitte, working as an audit manager for the energy, services, and telecommunications sector.
She joined IKEA in 2004 as head of the administration department, became Deputy Store Manager in 2006, and – at eight months and three weeks pregnant with her first child – Store Manager of IKEA Barakaldo in 2008. In 2011, at the age of 36, she was appointed Country Retail Manager for IKEA Spain, the first woman to hold this position. In 2015, she became Country Retail Manager for IKEA Italy.
Since 2019, Belén has been Deputy Retail Operations Manager at Ingka Group, the strategic partner in the IKEA franchise system, operating 389 IKEA stores in 32 countries, 46 shopping centres and over 80 distribution centres. Ingka Group has three business areas: IKEA Retail, Ingka Centres, and Ingka Investments.
Belén is recognized as one of the leading women entrepreneurs and managers in Spain and beyond. She has received a "Star of the Community of Madrid", been recognized by the Spanish Federation of Women Managers, Executives, Professionals and Entrepreneurs (FEDEPE) as Executive Woman of the Year, one of the Top 100 Women Leaders in Spain, and many more. She continues her work to improve women's access to managerial positions and to support female talent as member of the board of directors of FEDEPE.
Belén is married, has three children, and is based in Malmö, Sweden.