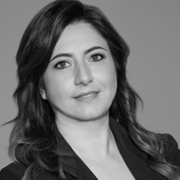 Cristina Scocchia
After graduating in Management of International Firms at Luigi Bocconi University, she completed a PhD in Business Administration at the University of Torino.
She started her career at Procter&Gamble, where since 1997 she held positions of increasing responsibility working on mature and emerging markets until she was appointed in 2012 as Cosmetics International Operations Division leader, with the responsibility of supervising the brands in her portfolio in over 70 countries throughout the world. From 2014 to 2017, she served as Chief Executive Officer of L'Oréal Italia S.p.A. and she lead the return to growth of the company in a challenging economic environment. Since July 2017 she is Chief Executive Officer of Kiko S.p.A. Brand leader in Italy and in Europe, KIKO has more than 7,700 employees, 920 mono-brand stores in 22 countries and an e-Commerce channel present in 34 countries.
Speaker and lecturer in many national and international conventions and conferences related to enterprise development, leadership, diversity and sustainability, Ms. Scocchia is also a member of the Board of Directors of EssilorLuxottica S.A, Pirelli S.p.A. and IllyCafè S.p.A.