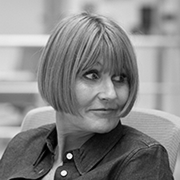 Mary Portas
Founder & CEO
,
Portas Agency
Mary is the founder of Portas, a creative consultancy headquartered in London and Melbourne, that explores the future of shopping and living.
Known to the nation through her TV shows as Mary, Queen of Shops, Mary has made an indelible mark on British retail across her career. By aged 30 she was on the board of Harvey Nichols. Working as their Creative Director Mary transformed the luxury department store in London's sexiest fashion destination. Mary has written columns for most national media on retail and consumerism, published three books, advised Government on the future of High Streets, launched her own fashion label as well as kickstarting the return of British manufacturing with her brand Kinky Knickers. Her proudest achievement to date is the creation of Mary's Living and Giving shops for Save The Children. Currently the most profitable charity shops in the UK, she has opened 25 and counting and has raised over £13 million to date. Mary's most recent book Work Like a Woman is about the empowerment of women in work culture.
Sign up here for the Mary's weekly newsletter. For further info on the forthcoming report from Portas, sign up here.