25 Apr 2023
New report outlines sustainability progress in fashion retail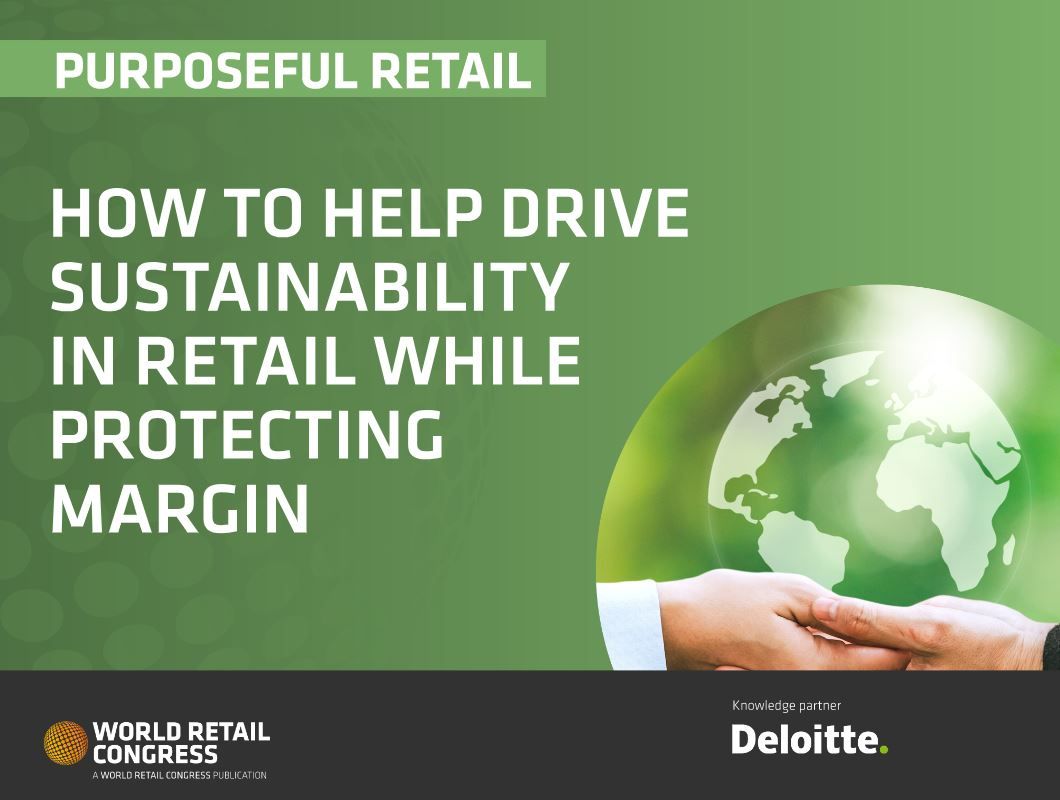 Tech-enabled tools are speeding up sustainability in the fashion world whilst protecting margins 
BARCELONA, April 25, 2023 – A new report by Deloitte and Google Cloud in partnership with World Retail Congress, has launched today exploring how the fashion industry is using technology to power quick sustainability wins that can translate to long-term gains, both in and out of the boardroom.  
"It's no secret that the retail industry has long been criticised for the toll it has taken on the planet - from production processes to consumption behaviors, and everything in between," said Karla Martin, Global Fashion & Luxury Leader, Deloitte DTTL. "Progress in creating more planet-friendly practices hasn't been made quickly enough, perhaps, due in part to a lack of tools that could help make meaningful change.?However, new cloud-based technologies are starting to help retail companies drive sustainability in ways that are good for the planet and the bottom line."  
Deloitte US research reveals inaction on climate change could cost the world's economy US$178 trillion by 2070, and governments and regulatory bodies are passing sustainability legislation around the globe that will likely soon require real, verifiable reporting metrics. The  
European Green Deal, for instance, aims to reduce net greenhouse gas emissions across the continent by 55% by 2030, and while the US is trailing behind, regulatory requirements have begun to roll out in New York and California, with metrics also aimed to be met by 2030. 
But doing what's required may not be the same as doing what's right. Beyond the forthcoming regulatory reporting requirements, something much bigger could be at stake—brand reputation. 
Key report takeaways include:  
Post-pandemic tech developments - Post COVID-19, society has a renewed appreciation for nature, and perhaps more consideration for its impact on the planet. Cloud-based tech development was fast-tracked, and in the move to a become a more sustainable industry, retail has taken advantage of new technologies that are enabling better data collection, tracking and tracing, supply chain visibility, and more. Not only that, the retail industry is also using tech to power entirely new circular business models, like apparel rental and resale. 
 

Increased consumer demand - Millennials and Gen Z are continuing to increase in spending power and influence the consumer landscape. Despite an inflationary economy, 47%1 of consumers are still choosing to spend more for sustainable goods and services, even though they typically associate sustainable alternatives with being more expensive. They have also begun to demand transparency around companies' carbon footprints.  
 

Incoming regulatory requirements - 65%2 of CxOs said the changing regulatory environment has led their organisations to increase climate action over the last year.  
 

Transparency across ESG footprints - According to a recent Think with Google report, 72% of UK consumers say that having a brand's values reflect their own beliefs is a deciding factor in what they buy, so making a sale can come down to whether or not a consumer feels they can trust what a company claims to be true. Not only that, sustainability has become a driving concern within the workforce, too, as many companies seek to attract and retain employees from a talent pool who care about the environmental commitments of their employers. 
 

Leading companies are leading the way - Sustainability and circularity have gained a lot of traction across the industry amongst leading companies and well-known brands like Zara, lululemon, H&M, Gucci, and many more. Luxury fashion house Burberry, for example, aims for 100% of its key raw materials to be traceable by FY2025/26, which means greater visibility into risks and opportunities at the sourcing stage. In Deloitte's 2023?Global Powers of Retailing report?, Caroline Laurie, Vice President of Corporate Responsibility at Burberry, told us that having sustainability ambitions is no longer enough—it's time for operational delivery. 
 

Making an impact is easier than it might seem - Driving meaningful change is becoming more and more feasible now that retailers have access to new technology that can help put scalable solutions in place in cost-effective ways. According to a recent Google Cloud survey, 54% of retailers say they don't know how to become more sustainable, but many companies need not reimagine the entire value chain from end-to-end nor overhaul their whole business model. By simply selecting one aspect of their process and considering the ways in which it could be approached from a more sustainable lens, companies can likely begin to make a positive impact faster than they think. Developing environmentally-friendly materials and finding new ways to be more sustainable in design, production, distribution, and communication can help companies create products that are inherently sustainable, and lead customers to interact with those products in new and unique ways. 
 

Purpose beyond profit - When it comes to sustainability, today's consumers want to know that a company has priorities beyond profit. Prioritising sustainable outcomes that are good for the planet and good for business will help organisations foster more meaningful relationships with their customers, connect more authentically, and create trust through greater transparency. 
"The good news is that leaders are optimistic about the future - of our wardrobes, of the retail industry, and of its commitment to sustainability," concluded Rogers. "We found that 84%3 of leaders agree that both their organisations and the global economy can continue to grow while also making real progress in achieving climate change goals.  
By investing in and adopting new tech enabled tools and solutions, companies can drive sustainability faster and with much more ease, leading to ROI all around: happier customers, growth in revenue, and a greener planet for all to enjoy." 
Ian McGarrigle, chairman, World Retail Congress said: "Consumers today expect the retailers and brands they buy from to really care about sustainability and their impact on the environment. It is now becoming a non-negotiable demand that a retailer is working towards Net Zero emissions and refocusing their supply chains to offer more sustainable products. 
We are also moving to a new phase where acceptance of these factors is regarded as the norm, but actually delivering on these critical targets that is far harder to achieve. That is why we are delighted to be working again with Deloitte as one of our key knowledge partners – with their focus on 'Purposeful Retail'. Their report gets to the very heart of this issue around sustainability – that the cost of doing nothing is now far higher than starting out on the journey. What the report also shows is that retailers can find ways of  harnessing the innovation, the technology and resourcefulness for which the industry is known in order to deliver meaningful solutions not just for the planet but for the benefit of consumer and also their businesses. This report will provide an important framework for the key discussions taking place today."  
-ENDS- 
About Deloitte 
"Deloitte," "us," "we" and "our" refer to one or more of Deloitte Touche Tohmatsu Limited ("DTTL"), its global network of member firms, and their related entities (collectively, the "Deloitte organization"). DTTL (also referred to as "Deloitte Global") and each of its member firms and related entities are legally separate and independent entities, which cannot obligate or bind each other in respect of third parties. DTTL and each DTTL member firm and related entity is liable only for its own acts and omissions, and not those of each other. DTTL does not provide services to clients. Please see www.deloitte.com/about to learn more. 
Deloitte provides industry-leading audit and assurance, tax and legal, consulting, financial advisory, and risk advisory services to nearly 90% of the Fortune Global 500® and thousands of private companies. Our professionals deliver measurable and lasting results that help reinforce public trust in capital markets, enable clients to transform and thrive, and lead the way toward a stronger economy, a more equitable society and a sustainable world. Building on its 175-plus year history, Deloitte spans more than 150 countries and territories. Learn how Deloitte's approximately 415,000 people worldwide make an impact that matters at www.deloitte.com. 
About World Retail Congress? 
Founded in 2007, World Retail Congress provides an unrivalled high-level forum for senior retailers to learn, share insight, form powerful connections, and shape the future of global retail. World Retail Congress is a global platform that connects the retail sector's leaders, stakeholders, advisors, and influencers to connect, create solutions and drive progress within the industry.? 
World Retail Congress is owned by William Reed, the global media and events business with over 150 years of experience providing marketing-leading analysis, intelligence and events to the food, drinks and hospitality industries.  
Media Contacts: 
For WRC - Nikki Alvey, Big Top PR 
Nikki@bigtop-pr.co.uk 
Tel: +44 (0)7973 354 706