25 Apr 2023
Consumer Confidence, Rising Costs, and Supply Chain Volatility Top Concerns for Retail Leaders in 2023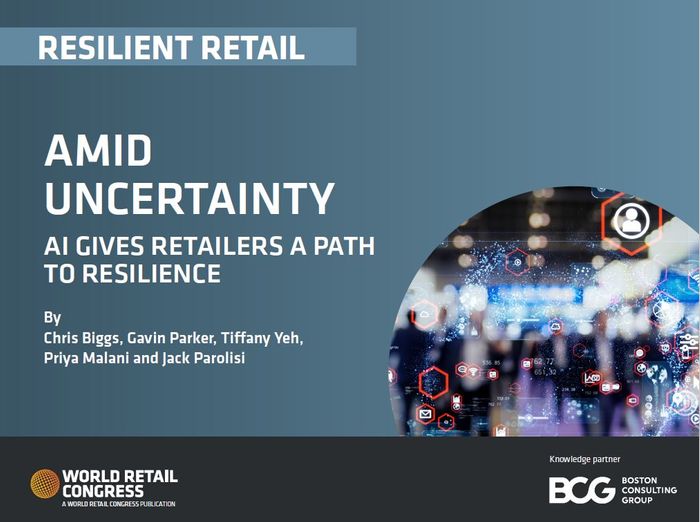 Consumer Confidence, Rising Costs, and Supply Chain Volatility Top Concerns for Retail Leaders in 2023
Most Retailers Are Not Addressing Concerns Using Long-Term Solutions Like AI to Improve Resilience and Structural Advantage, According to New Research from BCG and WRC
BARCELONA, April 25, 2023—After several turbulent years, the global economy is finally stabilizing. But the world is resettling in ways that are much more challenging for retailers than before the pandemic, with record high input costs, persistent operational uncertainty, and ongoing geopolitical challenges. This year, retailers are most concerned about rising costs, declining consumer spending, and supply chain volatility, according to a new survey by Boston Consulting Group (BCG) and the World Retail Congress (WRC) published today.
More than 550 senior leaders from 12 retail sectors were surveyed for the report, titled Amid Uncertainty, AI Gives Retailers a Path to Resilience, which explores retailers' outlook for 2023 and how artificial intelligence can provide solutions for their most pressing business concerns. According to the report, surveyed retailers largely agree that economic and operational uncertainty will continue in 2023, but that there are signs of optimism, with 65% of respondents expecting that the economy will grow this year, either slowly or rapidly (compared with 11% who believe the economy will decline).
Less than 13% of retail leaders surveyed state that their organizations are investing in longer-term strategies such as AI-powered solutions to tackle these challenges, with most focused on short-term fixes like increasing prices and running marketing campaigns.
Ian McGarrigle, chair of World Retail Congress, said, "It is clear from this research that many retailers are missing out on the potential of AI-powered solutions to address the challenges facing retailers today and create long-term resilience for their businesses."
Retailers Are Sticking with the Basics when Addressing Rising Costs of Goods
In response to the rising costs of goods, 55% of respondents said their organizations are raising consumer prices, and 52% are renegotiating with suppliers, except in Asia where the leading solution is cost-tracking and management processes.
Retailers can leverage AI to create a next-generation pricing strategy in several ways:
Enable geographic and channel-based pricing, dynamic price changes, and personalized offers

Use machine learning to better understand price elasticity and make pricing forecasts

Simulate and optimize price changes across different price positions, promotion plans, markdowns, and personalization strategies

Monitor relevant competitor and alternative data sources such as social media in real-time to respond to competitor moves and demand signals quickly.
Consumers Have Changing Expectations as Spending Remains Flat
The study revealed that outside of Asia, most retailers were neglecting AI as a tool to provide a more personalized shopping experience to help overcome declining consumer spending. Instead, the most common approaches were:
Investments in loyalty programs (45%)

Product offering optimization (44%)

Price promotions (40%)

Digital customer experience investments (40%)
Previous BCG research found that consumers were 110% more likely to add items to their baskets and 40% more likely to spend more than they had planned when the shopping experience was highly personalized.
Few Retailers Are Leveraging AI to Address Supply Chain Complexity
Almost half of retailers who cited their supply chains as a top concern are trying to improve inventory management tools. Other retailers are focused on bettering vendor management, improving transportation, and diversifying their supplier base as solutions to supply chain complexity and ongoing volatility.
There is a relatively untapped opportunity for retailers to embed AI in these solutions and their overall supply chain strategy to better understand and address the root causes of volatility from producer to customer. Combined with the ability to simulate and optimize various scenarios, these AI-enabled insights can help retailers be more flexible and predict needs more accurately over the long-term while being proactive about supply and demand volatility in the near term.
How to Start Unlocking Strategic and Financial Value
While the benefits of AI are enticing, the prospect of introducing this technology into the business can seem daunting. The report outlines how retailers starting their AI journeys can address their top concerns and deliver quick wins along the way:
Identify challenges the organization faces and how AI can help solve them while creating sustainable advantages.

Determine the use cases that can unlock the most business value. This focus on business value helps ensure the entire organization is engaged in the AI project—not just the data scientists.  

Prioritize these high-value use cases based on business opportunity, feasibility, and ambition. It's best to think big but start small to ensure early quick wins that build momentum for change. 

Build, test, and iterate the technology and then scale quickly to deliver fast impact, build capability, and transform the organization throughout the journey. 
"The new, post-pandemic retail environment is more challenging, complex, and competitive than before," said Tiffany Yeh, BCG managing director and partner and coauthor of the report. "The vast majority of retailers are overlooking an opportunity to embrace AI-powered solutions. It is now a matter of acting today to harness this advantage to drive the business into the future."
Download the publication here.
Media Contacts:
Eric Gregoire:
+1 617 850 3783
gregoire.eric@bcg.com
Nikki Alvey:
+07 973 354 706
Nikki@bigtop-pr.co.uk
About World Retail Congress 
Founded in 2007, World Retail Congress provides an unrivalled high-level forum for senior retailers to learn, share insight, form powerful connections, and shape the future of global retail. World Retail Congress is a global platform that connects the retail sector's leaders, stakeholders, advisors, and influencers to connect, create solutions, and drive progress within the industry. 
 World Retail Congress is owned by William Reed, the global media and events business with over 150 years of experience providing marketing-leading analysis, intelligence, and events to the food, drinks and hospitality industries.
About Boston Consulting Group
Boston Consulting Group partners with leaders in business and society to tackle their most important challenges and capture their greatest opportunities. BCG was the pioneer in business strategy when it was founded in 1963. Today, we work closely with clients to embrace a transformational approach aimed at benefiting all stakeholders—empowering organizations to grow, build sustainable competitive advantage, and drive positive societal impact.
Our diverse, global teams bring deep industry and functional expertise and a range of perspectives that question the status quo and spark change. BCG delivers solutions through leading-edge management consulting, technology and design, and corporate and digital ventures. We work in a uniquely collaborative model across the firm and throughout all levels of the client organization, fueled by the goal of helping our clients thrive and enabling them to make the world a better place.