14 May 2019
Partner to innovate in smart materials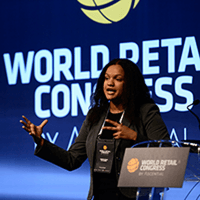 Retailers should innovative start-ups to help develop next generation products
Technology must not force consumers to change their behaviour and terminology needs to be carefully addressed, warned Janett Liriano, Co-Founder and COO of MadeMan, during a tech talk at World Retail Congress in Amsterdam today.
She cited examples of manufacturers of smart clothing who labelled products as water resistant, which was incorrectly interpreted as machine washable by consumers.
Looking at a variety of materials innovations, she also noted the potential for blockchain to help suppliers integrate but said "scalability is an issue and Blockchain is challenging to use, including the uncertainty around regulation."
She advised retailers to develop their own smart wearable products by combining with innovators rather than attempting to develop their own technology. "There are a lot of start-ups working on the edges of smart materials but who need investment, so my advice is to partner with them," she said.