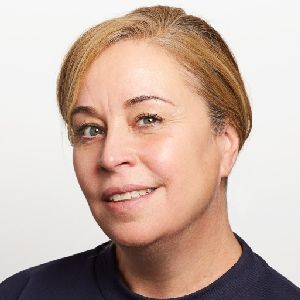 Jennifer Foyle
Global Brand President
,
Aerie
Jennifer Foyle is a 26-year retail veteran, and as the Aerie Global Brand President has revolutionized the intimates apparel industry by vowing not to retouch the brand's marketing in 2014. That decision ignited a body positivity movement that has been a game-changer for the Aerie business and millions of women and girls who have been empowered to love their real selves inside and out.
Jennifer Foyle has arguably done more than any other brand manager in retail to banish the flawless and unrealistic images common in apparel advertising. Jennifer has set the strategic vision for the Aerie brand, and together with the Aerie team, she's led successful product innovation and the expansion of the collection that has fueled 20 consecutive quarters of double-digit sales growth for the brand.
Jennifer has led the Aerie brand in developing an emotional connection with its customers that is truly inspirational. The #AerieREAL movement has changed the way women see themselves and how they treat each other.
Under Jennifer's leadership, Aerie has also developed meaningful partnerships with the National Eating Disorders Association, Bright Pink, Free the Girls, Special Olympics, Darkness to Light, Delivering Good and Make-A-Wish Foundation.
In 2018, Jennifer was honored by AdWeek with a prestigious Brand Genius award, which recognizes exceptional talent, insight, creativity and bravery in business. Jennifer and the Aerie team's commitment to body confidence and empowerment has also been recognized with Glossy's Best Influencer Campaign in 2018, a Femmy Award in 2017, and the NEDA Inspires Award in 2015, among others.
Jennifer is a graduate of Roanoke College in Salem, Virginia. She began her career at Bloomingdales and held positions of increasing responsibility at Gap Inc., J.Crew and prior to joining Aerie in 2010 was the President of the global lifestyle brand, Calypso St. Barth.