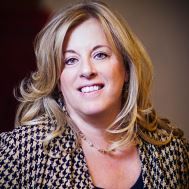 Linda Rosanio
Chief Commercial Officer
,
Vsblty
Linda Rosanio, a 35+ year marketing communications and ad tech executive, is currently the Chief Commercial Officer of VSBLTY, a leading computer vision company.
Most recently, Linda has been an active pioneer for the Store as a Medium and the digital transformation in retail.
She began her career in Media and Account Management before starting her own US based advertising agency that managed retail activations for leading CPG clients.
Along that path, Linda helped incubate FloorGraphicsTM with eventual VSBLTY Co- Founder, Fred Potok. With overwhelming success, and her first foray into the Store as a Medium, she decided to re-vector the agency's shopper marketing expertise and expand it to leverage the IoT and Computer Vision. She became a co-founder of VSBLTY, and the rest is history.
Today VSBLTY is a publicly traded company, and breaking new ground every day in shopper marketing, data analytics, and security. VSBLTY works globally with some of the worlds most respected brands and together with WPP The Store, Intel, ABInBev and other echo system partners, are making the Store as a Medium a reality worldwide, with retail activations that are shaping the future for brands and retailers.