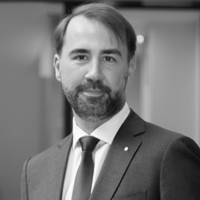 Tobias Wasmuht
Tobias has been growing and developing SPAR's international presence for over 20 years and has been the CEO of SPAR International since January 2016.
Upon joining SPAR in 2000, he became responsible for the international retail and marketing strategy of SPAR. In this role, he implemented new SPAR retail formats and concept innovations as well as leading SPAR brand and marketing development worldwide.
In 2004, he led the launch of SPAR into China and thereafter the development and growth of SPAR in Asia. He held the dual role of being the Managing Director of SPAR China, in addition to his global role as International Retail and Marketing Director joining the International Board of SPAR in 2007. Having dedicated 10 years growing SPAR in China and thereafter in Asia, Tobias returned to lead SPAR internationally as CEO in 2015 and work closely with SPAR country organisations worldwide to implement a strategy of growth entitled "Better Together". This strategy has seen SPAR grow its presence to 13,623 stores with global sales of 41.2 billion Euros across 4 continents in 48 countries worldwide.
In addition to being a member of the International Board of SPAR, Tobias serves on the board of FMI, the leading US retail industry association and the Independent Retail Europe.