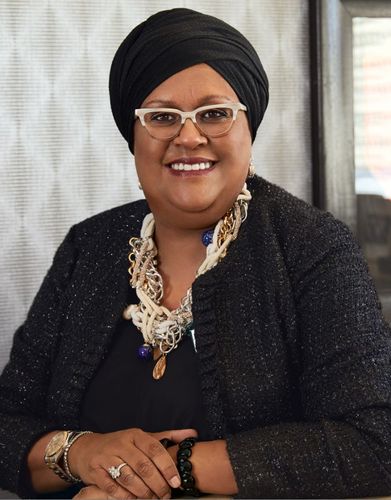 Zyda Rylands
CEO
,
Woolworths South Africa
Born and educated in Cape Town, Zyda completed a B Com at the University of Cape Town and B Com (Honours) at the University of the Western Cape. She completed her articles at Kessel Feinstein and qualified as a chartered accountant in 1993.

Zyda joined Caltex Oil (SA) as a financial analyst, before being promoted to treasury administration manager. She was recruited by Woolworths in 1995 as an audit manager and after 18 months she was appointed as EA to the Woolworths MD. Since then she headed up financial accounting and corporate planning, played a role as financial executive for all of Woolworths stores and moved to Gauteng to head up a commercial division. In 2004 Zyda was appointed Director of People, and in 2006 Zyda was appointed to the Woolworths Holding Board as Director of People and Transformation. She was appointed as the Chief Operating Officer: Support Services in 2008. Zyda was appointed as the Managing Director of Foods in 2010 and was appointed as the Chief Executive Officer of Woolworths South Africa in 2015.
Zyda serves as a non-executive director of the National Clothing Federation and The Woolworth Financial services Board. Zyda served as a non-executive director on the boards of the National Urban Reconstruction and Housing Agency, the Centre for Justice and Crime prevention, the Open Society Foundation of SA, the Black Management Forum, FirstRand Bank and as chairperson of the Audit Committee for Parliamentary Services. Zyda also served as a trustee of the Trauma Centre for Survivors of Violence & Torture and as a member of the Coca Cola Retail Council.
In 2017 Zyda was awarded the prestigious World Retail Award for Woman of the year by the World Retail Congress. Zyda is a recipient of the Impumelelo/BMF Top Ten Black Business Personalities Award and was named SA's Most Influential Women in Business and Government in the Consumer Business, Wholesale and Retail Sector in 2012 by CEO Magazine. Zyda was a finalist in the Business Women's Association of South Africa's 2011 Business Women of the year award. Zyda completed the Advanced Management Program at Harvard Business School and graduated in 2013. Her greatest passions are people, leadership development and transformation in corporates and in South Africa.
In her spare time she loves travelling, spending time with family and does flowers for bridal parties.