By JDA |
In recent years, narratives such as multi-channel, and then omni-channel, attempted to describe pivotal points in digital transformation journey. But this is set to change yet again, as both the demands of the modern shopper and advances in technology become ever greater catalysts. The scale of change in the next 5 years will likely exceed that of the past 50 years. But what is the change? How are retailers addressing it? What are the challenges? And more importantly, what is the prize?
Since JDA first commissioned PwC to conduct this survey in 2014, we have witnessed unprecedented change sweeping across the retail industry as it transforms itself to create a seamless blend between the physical and digital store.
In the survey, prepared by PwC, we asked more than 350 retail and consumer goods CEOs from the world's largest and smallest players, across different segments in both mature and emerging markets around the world to share their views of the key trends shaping their business. The survey was conducted in late 2016 with 351 responses from executives in the United States, Mexico, the United Kingdom, Germany, China, and Japan. Thirty-two percent of responses were from top 250 retailers (> $5 billion revenue), with another 53 percent from top 1,000 retailers. Respondents identified themselves as coming from hard goods, soft lines, grocery, ecommerce, and CPG verticals, and from related retail and consumer goods sectors.
Investment Priorities
A CEO's real priority can usually be seen in where they choose to invest their capital, and the survey found that digital transformation is the highest investment priority, with customer experience being the main driver. In fact, 69 percent of executives surveyed say they plan to increase their investment in digital transformation over the next year.
Surprisingly, more than half of respondents – 52 percent – have not defined or started implementing a digital transformation strategy, as shown in the graphic below. This could be costly as those retailers who have a well-defined digital transformation strategy already being implemented have a higher proportion of online revenues and are naturally investing more in digital transformation than those who have no plans to develop a strategy. They also experienced higher same-store sales growth in the most recent fiscal year.

Profitability
Profitability continues to be a key performance indicator, with 62 percent of CEOs stating their online business is making a profit, up seven percent from last year. This is despite 75 percent who believe their online operating costs have increased as a percentage of sales in the last 12 months, particularly among those with distinct operating channels.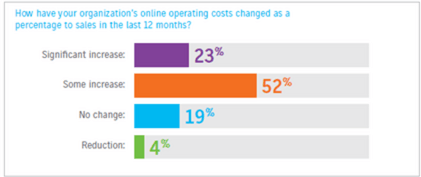 In general, retailers expressed greater confidence in future revenue, with 52 percent of executives saying they are very confident about their organization's prospects for revenue growth. Certainty in future profit is also up, with 51 percent expressing confidence profit growth.
Through this annual survey we have gained insight to store investment, online profitability, capabilities to support the growing complexity in fulfilling customer orders, the uses of customer data and much more.
Download the full JDA/PwC report to read about more trends shaping the retail industry around store investments, growing complexity in fulfilling customer orders, uses of customer data and more. Take a look and let us know what YOU think about the findings.